Mechanic
Powerful, fast and accurate.
Rigid structure and light body.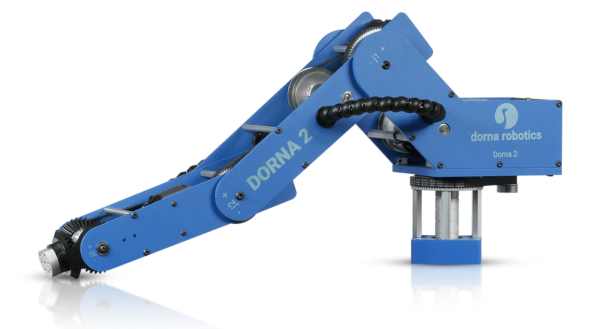 Up to 1.5 kg payload
With maximum payload of 1.5 kg and nominal payload of 1 kg, Dorna 2 is the perfect fit for light and medium duty applications.
0.02 mm repeatability
Dorna 2 offers repeatability of up to 0.02 mm on the same job and consistency of the robot at any speed.
500 mm reach
The robot can be mounted on the ground or on the ceiling, and can cover an approximate spherical working range of 1 m in diameter.
1200 mm/sec speed
Maximum joint speed of 600 deg/sec for j0, 450 deg/sec for j1 and j2, 2000 deg/sec for j3 and j4, and up to 1200 mm/sec tool speed, makes Dorna 2 one of the fastest robots in its class.
Rigid and strong body
Every part of the robot is designed to meet our high quality standard. Dorna 2 rigid structure and a low backlash gearing makes stable, smooth and no vibration motion.
5.5 kg body weight
With slim and light body weight of only 5.5 kg and small footprint of 72 x 72 mm2. Dorna 2 offers a compact form factor making it a good fit for tight workspaces.
Controller
Designed for rigorous performance and reliability.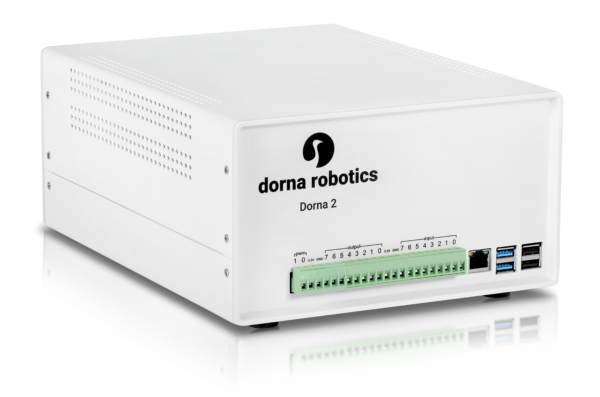 Advanced motion controller
Dorna 2 high performance motion planning engine is capable of traversing lines, circles and complex paths. The controller can process a new motion command at approximately every 2ms.
Closed loop controller
Dorna 2 enjoys a fully closed loop control system that guarantees position accuracy, repeatability and consistency of the robot at any speed. It also provides collision detection and easy recovery from collisions.

Smoothly traversing complex paths

Fast and live motion processor

8-axis closed loop controller


Collision detection and easy recovery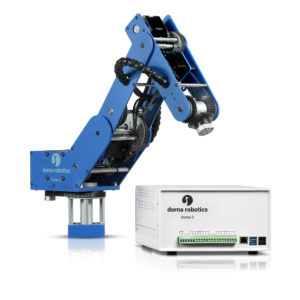 Auxiliary axes
Dorna 2 controller allows users to control up to 3 additional closed loop axes along with the 5 axes of the robot (8 axes in total). The extra axes can be used for gripping mechanism, rail tracking, camera control, or any other automation mechanisms that require precise and synchronized motion with the robot axes.
I/O
Several I/Os for more sophisticated applications and interacting with sensors, actuators and other devices.
Communication
Fast ethernet and wireless enable real time, reliable and secure communication between users and the robot.
Software and API
Operate your robot with no programming experience.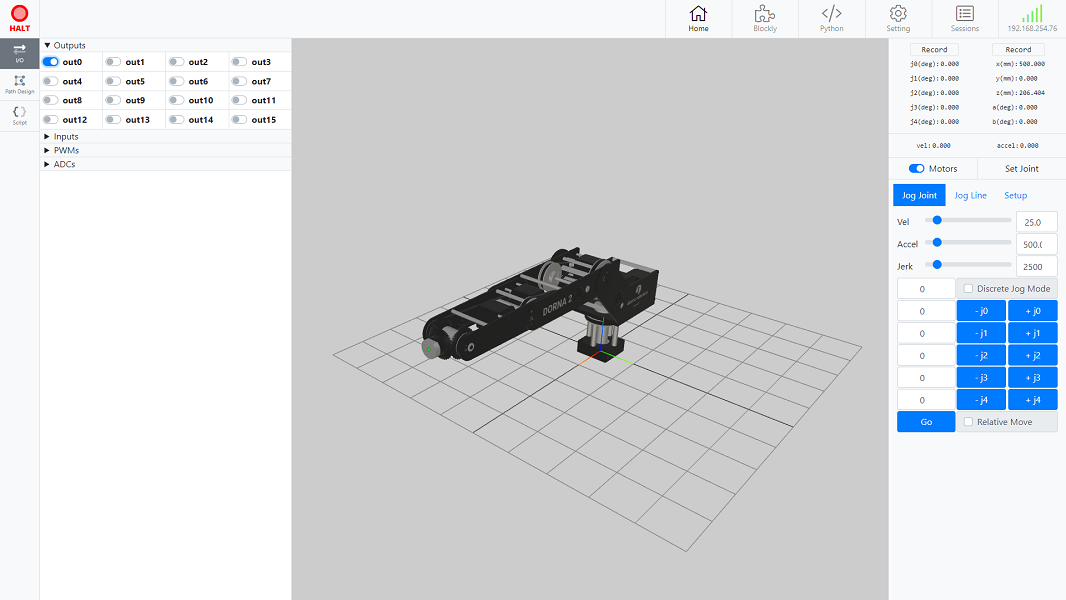 Dorna lab
Dorna lab is an advanced web-based interactive GUI to work with Dorna. The software does not require any installation and allows robot programming, simulation and monitoring through a web browser and on any platform, including PC, cell phone or tablet.


Quick setup and operate
Dorna lab provides the tools necessary to increase the profitability of your robot system by letting you perform tasks such as jogging, training, programming, simulation and optimization without disturbing production. Users can easily hand train the robot by freely moving the robot arm, touching the target points and asking the robot to repeat the same task.
Visualize programming
Dorna lab programming and simulation can be performed offline without access to the robot. Dorna Lab provides the tools necessary for the users to easily design and optimize complex paths visually with no coding experience. The result can later be previewed in a simulation mode to test for any possible collision before running on the robot.
API
Advanced programmers can now interact with the robot through its WebSocket API. Our API enables almost any programming language to easily communicate with the robot, through a simple set of JSON format commands and messages.
Model
Dorna 2
Payload
1 kg / 2.2 lbs. (max 1.5 kg / 3.3 lbs.)
Reach
500 mm / 19.7 in
Degrees of freedom
5 rotating joints
Movement
Repeatability
0.0254 mm / 0.001 in
Axis movement arm
Range of motion
Maximum speed
Axis 1
340 deg [-160, 180]
600 deg/sec
Axis 2
270 deg [-90, 180]
450 deg/sec
Axis 3
284 deg [-142, 142]
450 deg/sec
Axis 4
270 deg [-135, 135]
2000 deg/sec
Axis 5
Infinite
2000 deg/sec
XYZ speed
1200 mm/sec
Physical
Weight including the cables
5.5 kg / 13 lbs.
Material
Aluminum
Cable length
Two cables, each 1 m / 39.4 in
Attachment methods
Floor /ceiling
Footprint
72 mm x 72 mm
Control box
Communication
TCP/IP server (Ethernet and Wi-Fi)
I/O ports
Digital input
16
Digital output
16
PWM
5
ADC
2
I/O power supply
2 V, 1 A
Power source
100-240 VAC, 47-440 Hz
Control box size (W × H × D)
280 mm x 120 mm x 220 mm
Weight
3.8 kg / 8.4 lbs.
Material
Steel and plastic